Milwaukee's commercial real estate market is hot, but in a state of transition as it adapts to changes in the retail industry and the coming impact of Foxconn and related developments. The Milwaukee Business Journal recently assembled a panel of experts to explore how developers, tenants and occupiers are addressing the challenges and opportunities that the changes present. 
MODERATOR: How would you characterize today's commercial real estate market? What's hot and what's not?
TRACY JOHNSON: There's wide consensus that it is strong. Vacancy is very low, especially in the industrial sector. There are some question marks around retail but a lot of activity on the investment side. Multifamily has been active for many years and continues to be strong despite some indicators suggesting we have reached saturation.
JEFF HOFFMAN: Ten years ago, we were on the precipice of one of the worst recessions that we have ever experienced. After two or three years, the markets came back and have been growing ever since. Today, in the industrial segment, the number of greenfield projects being considered is greater than we have seen in more than a decade, however, recent uncertainty about trade policy could hold back growth.
DEBBY TOMCZYK: There's a lot of money in the marketplace and there's a lot of liquidity because it has been a good place to invest. You're seeing money from places like Chicago, Boston, New York, even California. Will this be sustainable for the long term? I don't know, but we have some unique things in our market – like Foxconn – that suggest it could be sustainable or even expand further.
IVAN GAMBOA: I would characterize it as a strong commercial market. We've had multiple years of new projects coming online. There are changes on the horizon, but most people see them as positive. The changes in health care present development possibilities. People also see opportunities in the changing grocery business.
MODERATOR: You mentioned grocery, but retail in general seems to be a special challenge. What is going on in that segment?
JOHNSON: Retail brokers are looking for ways to be creative. There are big box stores that are going dark, but that creates redevelopment opportunity – whether it is health care, storage or distribution similar to what General Capital did with the Sam's Club on Milwaukee's Northwest side, converting the retail space to light industrial. In terms of retail segments, the high-end retailers remain strong and off-price retailers like Marshall's and Ross continue to be bold and invest.
GAMBOA: I agree. Some retailers are closing, but I think that creates opportunities for investors. We work with local clients who know the market and want to repurpose retail. We've seen a lot of successful projects. The challenge is older buildings with expiring leases. Do we reinvest to bring it up to what the market wants or does there need to be a change of use? Look at Southridge. It will always be a commercial center, but it is going to look different. Kohl's is leaving, Boston Store is closing and Sears has left. The way retail is being delivered dictates how the real estate needs to be used. Successful retail today is more about social interactions and the experience of shopping than it is about just getting your shopping done.
HOFFMAN: In retail, the new rules of engagement revolve around the Amazon model, which allows consumers the ability to pull out their smartphones, order items and have them on their doorsteps in 24 hours. If you can't do that you are not going to win. Look at the two different retail models in our backyard. The Boston Store saga, which just came to an abrupt end in bankruptcy, and Kohl's. Kohl's had been struggling, but they are starting to figure out an Amazon strategy. They've revamped their network and downsized their store footprint. They're more focused on their e-commerce platform than they are new store openings. And their same-store sales are now increasing. JOHNSON: The storyline to watch is the convergence of retail strategies of Amazon and Walmart and the fight for the last-mile. Amazon is seeking greater physical presence with the acquisition of Whole Foods and new warehousing, while Walmart aggressively pressures its e-commerce presence and delivery through partnerships with Uber and Lyft. Right now, 90 percent of the U.S. population is within 10 miles of a Walmart store, while only 40 percent of the population is within 20 miles of an Amazon distribution center
MODERATOR: How is Foxconn impacting the commercial real estate market?
HOFFMAN: There are some speculative plays going on with the land, but new buildings or strip centers are going to be down the road. There's a lot of infrastructure and site work that has to be completed. Then there's a 12-month building process and maybe another 12 months to fully commission the plant. It may be the end of 2020 before the real hiring and supply chain ramps up.
GAMBOA: Single-family homebuilders are talking about developing new land, which is a big step because the market has been working off existing inventory. Developers are increasingly interested in the commercial corridors along the freeway interchanges. We think our customers will benefit most by managing their liquidity to make sure they have reserves ready to strike when the right opportunity presents itself.
TOMCZYK: I think the timing is going to be really fast, and I think trying to manage expectations is going to become really, really difficult once development starts taking off.
JOHNSON: We see that there is a push to build spec development in order to get ahead of rising construction costs and the fight for labor, which is inevitably going to be there. There is also a push to develop infrastructure in that corridor and engage the municipalities right away in the process.
MODERATOR: What are the concerns and challenges facing developers in today's market?
HOFFMAN: We are in an inflationary market. When you look at the economy on a macro basis, inflation has been under 2 percent, but when it comes to construction, it has to be high single digits year-over-year.
TOMCZYK: I agree. We are also concerned about interest rate increases. We have been spoiled for the last 10 years with unbelievably low interest rates. We are seeing a real urgency to get deals done so that people can lock in lower interest rates and avoid cost increases.
HOFFMAN: Some of these projects are thin to begin with and when you start adding 50 to 100 basis points in interest rate risk, you can tip the project upside-down.
TOMCZYK: I haven't seen any projects tank yet, but I know there is concern.
JOHNSON: Wisconsin's high real estate tax environment continues to be of concern for developers, owners and tenants. Even though we continue to push for changes and have seen some positive movement the taxes are still very high relative to surrounding States.
MODERATOR: Ivan, talk to us about interest rates and how that is impacting developers.
GAMBOA: People are asking for different types of structures. Before, they wanted to structure their financing to take advantage of low rates using floating, short-term rates. Now they want longer terms and they want to fix the rate up front during construction. In a rising-rate environment, there is no better opportunity than now.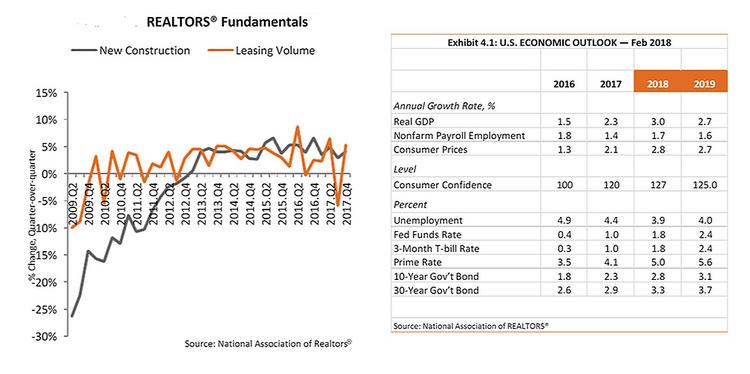 MODERATOR: Let's switch gears and talk about the primary concerns and challenges facing tenants and occupants.
HOFFMAN: The biggest challenges occupiers have is labor and expectations of timing. It's a very dynamic business market right now and it can change on a tweet. People are also stretched thin. They don't have time to move the ball down the field on a consistent basis.
TOMCZYK: I agree that everybody is running lean and mean. People are reluctant to make decisions early but holding back and not getting all of the stakeholders involved early ends up costing people money and time and makes projects more difficult to execute.
GAMBOA: There are different dynamics going on. Developers are really having to fight for top office tenants. If you are a big business that is willing to sign a long-term lease, you are going to have your pick of some prime properties.
TOMCZYK: One thing about today's retail deal is that it relies on local credit, so that can be more difficult to piece a deal together. I think it is also important to note that on the office side, footprints are getting smaller because businesses don't need as much office space.
MODERATOR: What's the current financial capacity – in terms of loans and government programs – for projects?
GAMBOA: Banks continue to push for loan growth to keep up income. Tri City is well positioned because we have a really strong balance sheet, but we also need to be as creative as we can be when putting deals together. We need to layer different types of debt. I am talking about PACE equity, the Milwaukee Economic Development Corporation, WHEDA, new market tax credits and historic tax credits.
TOMCZYK: Ivan's right. It's like putting a layered cake together. And there is a lot of competition, especially for government resources.
JOHNSON: There is focus at a State level, on removing regulatory barriers and creating a more friendly real estate environment including wetland reform and the allocation of additional dollars for the Wisconsin historic tax credit program Eliminating the State property tax was also a large push from the industry in the last legislative session. Federal changes favor business growth which is positive for real estate expansion and velocity.
HOFFMAN: There are no problems on the bank and private capital side. At the local level, municipalities have to be ready to utilize tax incremental financing (TIF) districts for infrastructure costs. Conservatively, it costs about $650 per lineal foot, or about $3 million per mile, to deliver water, sewer and road for a business park. You can't sell land at a price needed to cover those costs. If municipalities aren't going to engage with TIF districts, you're not going to have development.
GAMBOA: Tax reform also created a new tool – opportunity zones – that give favorable tax treatment to people who invest in these zones. The rules have not really been fleshed out, but they have to be completed by this fall, so we will be keeping our eye on them.
MODERATOR: What would you recommend people look for when searching for commercial real estate partners? What are the differentiators that you think are most important?
TOMCZYK: They should be looking for depth and breadth of experience. They should be looking to partner with people like Ivan who can identify and quickly access the cutting-edge financial tools that are available and people like Jeff who know what is hot in the market and which players are active. It's all about people who have local market experience, a depth and breadth of practice, and access to partners with longstanding relationships.
GAMBOA: I think people are looking for partners with credibility, expertise and trust. They want to make sure their partner is going in the same direction as they are. You also want to be partnered with people who are vested in the area.
JOHNSON: When you talk about a commercial brokerage partner, you're really looking for someone who can solve problems. I love what Ivan said about the local expertise, because real estate is local. There are so many intricacies to a deal and so much of the deal depends on local knowledge.
HOFFMAN: A manufacturer is very good at what they manufacture, but they are not as good at communicating with a municipality about building permit issues, trying to find a site, juggling the various processes, understanding when buildouts are delivered and what they need to do to get occupancy. The manufacturer has to find credible, strategic resources to address those challenges.
TOMCZYK: The challenge is when you have a user/occupier where this may be the only deal they ever do. And yet, this deal may be the key to the future of their business. It is very critical that they tap into real estate advisers in addition to their traditional corporate advisers.
GAMBOA: As we talked about before, it is important that the team be engaged before it is needed. You don't want to be looking for people in the middle of your project. Once you have your team, you have to keep your lines of communication open and be in constant contact with your partners.
JOHNSON: Commercial real estate professionals in Wisconsin stick to their expertise, and they are very loyal to their deal teams because they never know where a deal may originate. We have a very collaborative and vibrant commercial real estate community.
MODERATOR: Are there any emerging trends you are monitoring to see if they are going to gain traction?
GAMBOA: I see municipalities taking larger leads in developments. In communities with successful developments, you will see that the municipality played an integral part, whether it was financing, recruiting tenants, helping to assemble land or all of the above. Future development is going to occur where a municipality is aggressive. It also is important to have good partners at the table as deals get more complex.
TOMCZYK: People are watching financing and interest rate policy very closely, as well as regulation and the general government atmosphere. Government was relatively stable for the last decade, but there is a lot of uncertainty due to the unpredictability of elections.
HOFFMAN: Over the next 10 years it is going to be very fascinating to see how automation and artificial intelligence play out and how that can supplement Wisconsin's population problem. There is a concern that artificial intelligence and automation is going to eliminate a lot of jobs, but I get the sense from talking to our clients that the technology cannot come quick enough because they can't find workers.
JOHNSON: The integration of driverless vehicles will affect every aspect of our lives. From how goods are shipped to how people get to work and where businesses locate. Our supply chain and solving for the last mile cost will change dramatically and have a ripple effect impacting commercial real estate.
---
TABLE OF EXPERTS
President and CEO for CARW – The Commercial Association of REALTORS® Wisconsin
Tracy is the president and CEO for CARW – the Commercial Association of REALTORS® Wisconsin. She has held roles with TEMPO Milwaukee, Milwaukee Symphony Orchestra; and an association for plumbing and mechanical contractors. She serves on the boards for Ascension Wisconsin and Marquette University Business School Alumni Association, as well as the Regional Transit Leadership Council. She is also involved with the Downtown Milwaukee Rotary Club and Public Policy Forum.
Co-Chairs the Industrial Service Practice of Cushman & Wakefield | Boerke
Jeff Hoffman Co-Chairs the Industrial Service Practice of Cushman & Wakefield | Boerke. His team specializes in developing and executing insightful strategies for occupiers and investors of Industrial real estate that leads to the optimization of their real estate assets. Real Estate expertise includes Leadership roles in the following organizations: Commercial Association of Realtors, Wisconsin Realtor Association, National Association of Realtors, SIOR, CCIM , Global Supply Chain Specialist
Senior Vice President of Commercial Lending for Tri City National Bank.
Ivan has been with the bank for more than 12 years serving in multiple roles, and now focuses his time in business development and securing new clients while also serving on the bank's loan committee. His passion is neighborhood development and Ivan serves as Board President for the newly formed Harbor District Inc. In 2016, Gov. Scott Walker appointed Ivan as Chairman of the Board of Directors for the Wisconsin Housing and Economic Development Authority (WHEDA).
Shareholder and Real Estate Practice Chair at Reinhart Boerner Van Deuren s.c.
Deborah Tomczyk is a shareholder and chair of Reinhart's Real Estate Practice. Debby assists clients in all aspects of real estate development, from structuring deals to obtaining financing and permits to ensuring that projects are successful. Her specialties include government relations, zoning, land use, eminent domain, licensing, tax increment financing and business improvement districts.