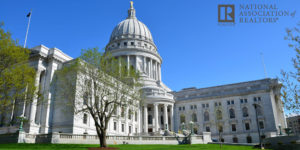 Dear CARW Members,
You can't turn on the news without hearing about what's happening legislatively in Washington DC. From tax reform to accounting changes, to drone legislation and carried interest  – so many of these issues impact your business and your clients' businesses.  We have a unique opportunity to hear from our NAR Policy Advisor, Erin Stackley who will be with us from DC.  She works with the lobby team for NAR focusing specifically on commercial issues.  She will give us an overview of current policy initiatives and her perspective on when to expect changes. Earlier in the day, Erin will join CARW leaders to meet with local leaders about EB-5  and the federal historic tax credit program.
The program will be a Lunch and Learn but held on TUESDAY instead of Monday because of travel schedules. Join us from 11:45am – 1:15pm at the 250 E Wisconsin Avenue Training Room.
You have told us that a key reason for your involvement in CARW, is the associations' involvement in policy and business issues.  Now is your chance to see your RPAC dollars at work and speak directly to the NAR influencers.  Other issues that will be discussed include:
Net neutrality
Carried interest deduction
tax reform
finance reform
Dodd-Frank
1031 Exchange
EB-5
I look forward to seeing you  next week and please let me know what questions you have!
Sincerely,

Curt J. Pitzen
[email protected]